Dr. Raghunath A
Dr. A Raghunath is a mechanical engineering graduate with a post graduate degree in Operations Management. He has obtained a Ph.D. degree in Management Sciences from Anna University, Chennai. He has a total of 32 years of industrial working and corporate training experience. He has worked as Scientist in Central Manufacturing Technology Institute (CMTI), Bangalore for about 20 years in Design, Manufacturing and Metrology fields and has handled a number of design and development projects. He has worked on productivity and process improvement consultancy projects for industries. He was Technical Manager and officer-in-charge of Metrology laboratory, which is a premier metrology laboratory of the country. He was also head of Precision Manufacturing Section in Micro & Nano Technology Department.
He has worked as faculty for many training courses conducted at CMTI. He has presented / published around 20 technical papers in different conferences and journals. He has undergone training on 'Computer Simulation of Manufacturing Systems' at USA for a period of 6 months.
He is the founder of Aditi Consultancy Services. In the last 9 years, he has conducted more than 500 corporate training programs in a number of companies at different cities of our country and also overseas. He is a specialist trainer in subjects like Geometric Dimensioning & Tolerancing, Tolerance Analysis, Design for Manufacture & Assembly, Six Sigma Methodology, Metrology, Calibration & Uncertainty of Measurements, etc.
He provides coaching to the persons interested in appearing for the ASME GDTP Technologist and Senior level certification examinations.
He provides consultancy for the establishment of the mechanical calibration and testing laboratories. For last 10 years he is regularly conducting the internal audit of many laboratories in the area of dimensional calibration, tensile testing, hardness testing, Microstructure analysis (case depth, grain size, inclusion rating), etc.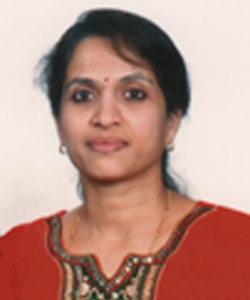 Suma A P
Mrs. Suma A P is a Statistics post graduate from Mangalore University, Karnataka. She is presently pursuing a PhD study in Statistics. She is a renowned statistics professor with an experience of around 23 years.
She is an expert in statistical data analysis. She handles statistical data analysis projects for PhD scholars, medical research professionals, etc.
She handles the training programs with statistics oriented topics like Statistical Process Control, Measurement System Analysis, Six Sigma Methodology, etc.
She is the cofounder of Aditi Consultancy Services.